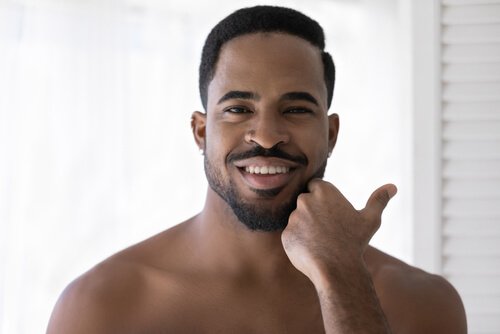 Manscaping and Male Beauty: Leveling Up Self Care for Men
Fathers Day Gifts for The Man Who Cares About His Health and Self-Care
For Father's Day, many wives and daughters will be googling "best father's day gifts" or "unique fathers day presents" in search of a gift that strays from traditional gifts like clothing or tools. For the man who already has everything, what do you get him? At Erasing Time we offer health and beauty services that are curated specifically for men; services that focus on skin, hair and health issues that men encounter and that we can fix or greatly improve.
What kinds of skin and beauty treatment services are great for gifting Fathers on Father's Day?
• Laser Hair Removal. For the man who wants to stop waxing and simply not have to deal with unwanted chest hair, back hair…or any body or facial/neck hair, we offer the latest and greatest laser hair removal treatments.
• Forma. What has been dubbed the "non-surgical facelift" because it really does lift and tighten your skin on the face, and well as other body areas…ask us for more information. Wink.
• Hydrafacial. Is the guy you know still scared of the idea of a MedSpa but at least open to facials. Great. Hydrafacial is the best 'gateway service' to let someone get comfortable with us as a business and as people, too.
• Hair Regrowth. One of men's biggest complaints in growing older is thinning hair on their head, receding hairlines, pretty much somewhere on the road to balding. No one wants to do a hair transplant, that's a big deal. But you know what is proven to be very effective and is not a big deal: Hair Regrowth Using PRP.
• Manhood PRP. No, that is not the actual name of the treatment, it's a way more entertaining way to put it. What is it? Basically, it can enhance your, ehem, member, and it also enhances sensations in that area…ask us for more information. Wink.
• Dermaplaning. Dermaplaning is a wonderful little add-on to any facial treatment. Dermaplaning removes any little fine hairs that we often refer to as "peach fuzz"
• Morpheus8. For any man in his 30s and above, we highly recommend this skin renewing and overall major improvement skin treatment. Morpheus8 are subdermal adipose remodeling treatments increase skin elasticity and contours while also smoothing the skin.
• Injectables & Fillers. Crows' feet are fine if you want them. For those that don't we offer skin smoothing solutions. You want to look as young as you feel. We get it. So we help you do it. From Botox to Juvederm to Disport, we know how to create a natural look that only accentuates his youthful appearance.
The bottom line? We are not a day spa that offers facials; we are the MedSpa people trust and a company that uses science and the newest technology to improve our clients' skin health and aesthetics. We don't change your look, we just help you non-surgically improve on it and rejuvenate your skin on a cellular level. Smart skin health. Guys deserve it too, ladies.